Tom Stebbins Co-Owner
Prior to founding Vision Marketing in 1997, Tom was the assistant athletic director for marketing & promotions at Michigan State University Athletics and marketing director at Washington State University Athletics. Tom's personal philosophy of mutually beneficial programs has created a common platform for success in his endeavors. He is a member of the Downtown Spokane Rotary Club (past chair program committee), on the board of directors and is currently on the youth services and program committees. Additional activities have included volunteer for Hoopfest and board member for Sports Leadership Ministries. Tom graduated with a business degree in finance from Montana State University and holds a Master of Science in Sports Administration from St. Thomas University in Miami, FL.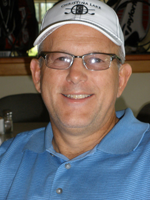 Paul Sorensen VP Sales
Prior to joining Vision Marketing full time in 2012, Paul was Director of Sales at Palouse Ridge Golf Club from 2009-2011, responsible for all group, marketing, promotions and advertising sales. Paul has extensive sales background and success for Service Paper Company and orthopedic sales for Dynasplint Systems from 2003-2008. Paul started and ran Impact Sports, a radio/ TV / sports marketing & promotion company, from 1986-2002 with offices in Spokane, Seattle and Phoenix. Impact Sports clients included Washington State University, Arizona State University, the Big Sky Conference, the WIAA and many others. A former football 1st team All- American and team MVP & Captain while at Washington State University, Paul was a 5th round draft pick with the Cincinnati Bengals and spent time with the San Francisco 49ers of the NFL. Paul also has a long history as a football & basketball color announcer for WSU, Big Sky Conference, EWU, College Football Saturday National Radio (Las Vegas, NV) along with High School state championship broadcasts as well! He has also coached football at Gonzaga Prep, Lewis & Clark & Ferris high schools in Spokane. Paul originated the Inland NW Chapter of the National Football Foundation & College Hall of Fame in 1995, is a past president & member of the board of Director's & was awarded the 1997 National Chapter Leadership Award from the College Football Hall of fame. A former Board of Director for the Spokane Ronald McDonald House, Spokane Big Brothers and Sisters, Washington Substance Abuse Coalition based in Olympia, United Way, WSU Grey W Club (Pullman) & WSU Cougar Club in Seattle & Spokane, Also Spokane & Seattle Executive Association board of Director's and El Katif Shrine member. Paul graduated from Washington State University, Pullman, WA - 1982 with a Bachelor Degree in business administration. Paul is married to Vicci Sorensen with six children; Adam, Travis, Ashalee, Travis, Cody and Alisha.